888poker Player Carlos Pal Pulls MASSIVE $30K Mystery Bounty Prize and Buys…a Pizza!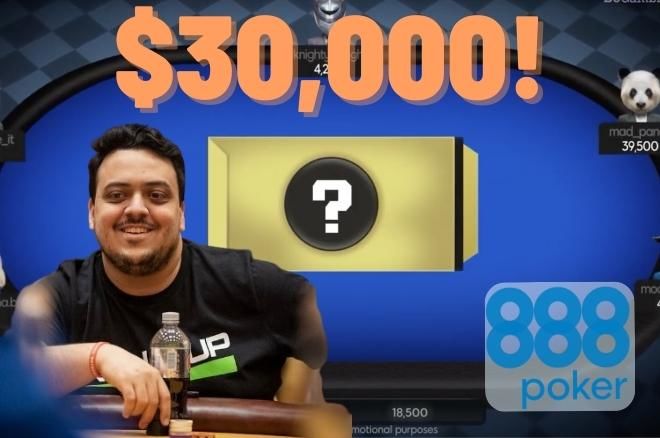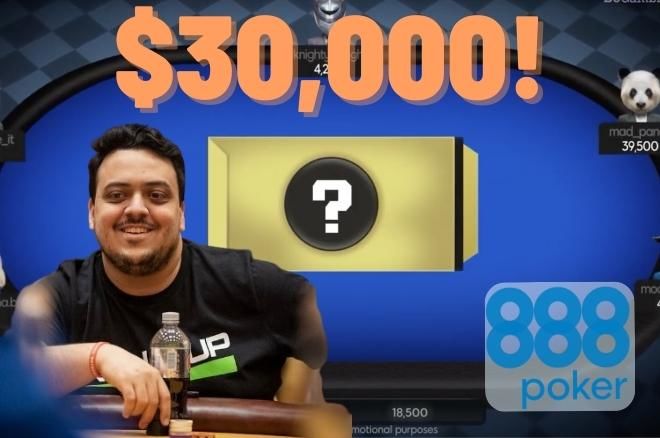 Earlier this month, "pinvoypuzec" triumphed in the $300,000 guaranteed Mystery Bounty Festival Main Event at 888poker and took home $25,262 for their efforts. However, it was the 14th place finisher that reeled in the overall prize, one worth $35,228 thanks, in part, to capturing a $30,000 mystery bounty before they busted.
The massive mystery bounty winner treated himself to pizza and got straight back on the multi-table tournament grind after padding his bankroll with one of the largest mystery bounty payments 888poker has awarded.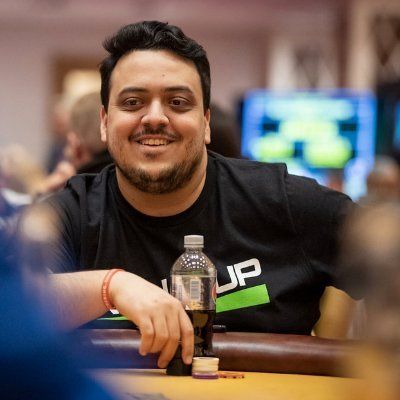 Carlos Pal is a software developer residing in Costa Rica, who plays poker part-time. Like many poker players, Pal discovered poker on television and immediately caught the bug.
"I found out about poker maybe 15 years ago," explained Pal. "I used to watch the WSOP Main Event on ESPN, then Poker After Dark and High Stakes Poker."
From a $100 Bankroll to a $100 Average Buy-in
It has been quite the poker journey for Pal, who started his online poker career grinding $0.55 and $0.82 buy-in tournaments from a $100-$200 bankroll. These days, Pal is found frequenting a wide range of tournaments, with an average buy-in of $100.
The call grinding such because continually playing the same tournaments can become a grind. Thankfully, 888poker being the only online poker site offering daily mystery bounty tournaments added a new element of fun into Pal's routine.
"I only started playing on 888poker at the end of last year. I noticed they were running daily mystery bounty tournaments, and thought I'd give them a try. I kind of just signed up because I though the 888poker tournament structures were quite good, in general, and playing for mystery bounties on a daily basis sounded fun."
One such mystery bounty tournament was the $300,000 guaranteed Main Event of the inaugural Mystery Bounty Festival. Pal played in the Main Event, but failed to progress to Day 2, which is when the mystery bounties came into play.
"It was funny because I played an early Day 1 flight and didn't bag. Then a friend reminded me that there were still four flights left, and he managed to get a nice Day 2 bag, so I fired another Day 1 flight, and thankfully managed bag for Day 2 on the same day. We kept an eye on each other's tables from then on! Thanks to "Profanic" for reminding me to register; haha cheers!"
Day 2 went very well for Pal, especially when he hit the jackpot after eliminating an opponent, and a mystery bounty worth a whopping $30,000 appeared on his screen.
"When the envelope of the mystery bounty started to slide, I saw a couple of zeros on the right already, so I quickly called my 'one time,' and bang, $30,000, hahaha!"
$35,000 Worth of Mystery Bounty Payments
Pal also captured two or three more bounties, including one weighing in at $3,000, before busting in 14th place, narrowly missing out on his goal of not only winning the largest bounty and taking down the tournament.
What would you do with $30,000? Enjoy a lavish holiday? A downpayment on a house? Guess what Pal did?
"I might have indulged myself with pizza for dinner that night, but that's about it, haha! We just keep on grinding, nothing fancy"
Obviously, Pal is a huge fan of the mystery bounty format and would like you to give them a go at 888poker.
"Mystery bounties are quite the popular format around the globe for a reason; it's exciting to always sweat that envelope reveal. You can play them daily on 888, so if you enjoy that type of sweat, give them a try."