Anywayz Takes Down Largest 888poker Mystery Bounty Event So Far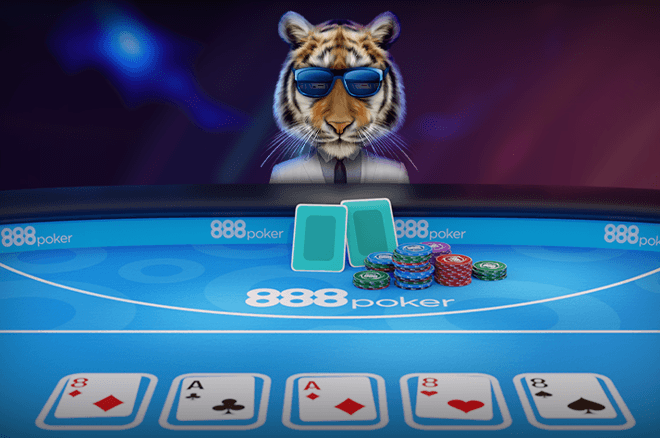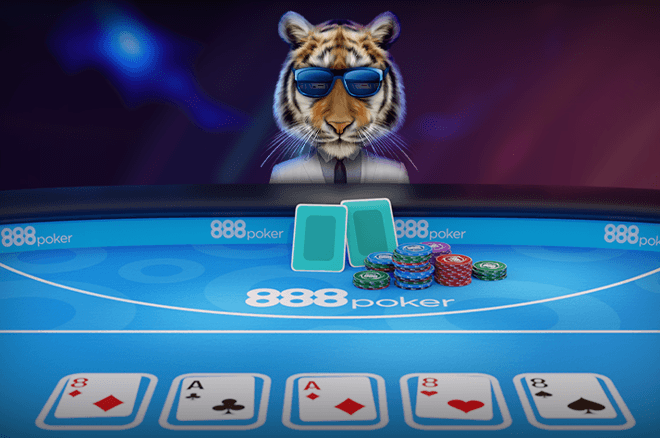 The 18th event of the 888poker Mystery Bounty Festival featured a $150,000 guarantee, the largest of the unique festival to date. Only the $160 buy-in $300,000 guaranteed Main Event, which gets underway on March 1, has more money up for grabs.
$150,000 seemed like an ambitious target to hit, but 888poker's customers turned out in droves for this $109 eight-handed mystery bounty tournament. Some 1,820 players, including re-entries, created a guarantee-busting $182,000 prize pool that included a huge $15,000 jackpot bounty payment. That monster-sized bounty was pulled out late into the penultimate day's action by Ukraine's "AntonTsi." They fell in 38th place for $321, but walked away with $15,430 thanks to mystery bounties they collected.
"Getoverhere" and "s.totuli" also received chunky bounties; both pulled out $4,500 from their respective envelopes.
MB Festival #18 – $150,000 8-Max Final Table Results
| Place | Player | Country | Bounties | Prize | Total Prize |
| --- | --- | --- | --- | --- | --- |
| 1 | Anywayz | | $1,215 | $15,632 | $16,848 |
| 2 | PacanyYaSvoi | Armenia | $1,215 | $11,427 | $12,643 |
| 3 | ucanudo | Ukraine | $4,106 | $8,399 | $12,505 |
| 4 | bomraPAZ | Brazil | $1,256 | $6,173 | $7,430 |
| 5 | raw_dawg | | $2,606 | $4,568 | $7,175 |
| 6 | Man_In_Black | Thailand | $218 | $3,402 | $3,621 |
| 7 | ska_Ska_SKA | Germany | $109 | $2,557 | $2,666 |
| 8 | enrico_bm | Brazil | $709 | $1,936 | $2,646 |
The eight-handed final table got underway on February 28 under the watchful eyes of the 888poker Twitch audience. David Tuchman and Nick Wealthall called the action throughout.
"enrico_bm" was the first finalist to find themselves void of chips, busting in eighth place for a $2,646 score. They crashed out when the action folded to "Anywayz" on the button, and they min-raised with pocket eights before calling the 15.8 big blind shove from enrico_bm, who turned over pocket sevens. A king-high board was no help to the all-in player, and the final table lost its first player.
Seventh place was decided soon after enrico_bm's demise, and it was a cooler hand of epic proportions. "PacanyYaSvoi" min-raised in late position, "raw_dawg" three-bet to 4.7 big blinds in the cutoff, and "ska_Ska_SKA" four-bet jammed for 17.7 big blinds on the button; only raw_dawg called. It was ace-king for ska_Ska_SKA but pocket rockets for raw_dawg, which held to reduce the player count by one.
$300,000 Gtd Mystery Bounty Festival Main Event Starts Mar. 1 at 888poker
Six-handed play lasted approximately half an hour before "Man_In_Black" broke the deadlock. Down to 8.2 big blinds under the gun, Man_In_Black open-shoved with king-nine of hearts, and "bomraPAZ" called in the big blind with ace-ten. bomraPAZ's ace-kicker played, and Man_In_Black was gone.
You need to win your coinflips if you want to win poker tournaments, but it appears raw_dawg did not receive that memo. They committed their 14.5 big blind stack from under the gun with ace-queen, and PacanyYaSvoi looked them up from the big blind with a pair of nines in the hole. Those nines were never in danger, and raw_dawg's participation in the tournament was over.
$7,430, the last four-figure prize of the $150,000 guaranteed event, went to fourth-place finisher bomraPAZ. They found themselves short stacked but doubled through PacanyYaSvoi thanks to finding pocket aces, but a comeback was cut short by Anywayz a few hands later. bomraPAZ completed the small blind with jack-trey of diamonds, and Anywayz opted to check their pocket kings. The trey-ten-four flop saw bomraPAZ check-raised all-in for 11.8 big blinds after Anywayz tested the water with a third-pot-sized bet. Of course, Anywayz was going nowhere with their pair of kings, and they called. Neither the turn nor river came to bomraPAz's rescue, and there were suddenly only three players in the mix for the title.
888poker Ambassador Vivian Saliba Falls Short of Mystery Bounty Festival Title
Those three became two on the very next hand. "ucanudo" decided the best way to play their 10.9 big blind stack with eight-seven of diamonds was to move all-in. Unfortunately, Anywayz woke up with pocket eights in the big blind, and called. The all-in player paired their seven on the turn but it was not enough to melt Anywayz's snowmen.
Anywayz went into the one-on-one battle with PacanyYaSvoi with a narrow 47.5 to 43.5 big blind advantage but had almost doubled their lead when the final hand took place. PacanyYaSvoi min-raised with queen-four and Anywayz called with king-deuce of hearts. The flop fell deuce-deuce-four, Anywayz checked, PacanyYaSvoi led for 1.4 big blinds before calling the 3.9 big blind check-raise from their opponent.
A queen landed on the turn, improving PacanyYaSvoi to what would turn out to be an expensive second-best hand. Anywayz bet 5.8 big blinds, and was called. A five on the river was greeted by a bet larger enough to put PacanyYaSvoi to the test for their 15.9 big blind stack. PacanyyaSvoi went deep into the tank, but could not find a fold, calling all-in and busting in second place for $12,643. Anywayz became the latest Mystery Bounty Festival champion, and scooped $16,848 in the process.
Savchenko1. Wins Big as 888poker Mystery Bounty Festival Kicks Off
Mystery Bounty Results So Far
Check out the full list of numbered Mystery Bounty Festival results so far. The numbered events go up to 30, so there is still time to get in on the action and become an 888poker champion.
| Event | Buy-in | Entrants | Prize Pool | Champion | Prize |
| --- | --- | --- | --- | --- | --- |
| MB Festival 01 | $11 | 2,581 | $25,810 | For1k | $2,282 |
| MB Festival 02 | $55 | 932 | $50,000 | Savchenko1. | $5,503 |
| MB Festival 03 | $109 | 1,032 | $120,000 | Leofoliveira | $10,811 |
| MB Festival 04 | $11 | 1,488 | $15,000 | samdion1996 | $1,559 |
| MB Festival 05 | $109 | 176 | $17,600 | IlovePickles | $2,333 |
| MB Festival 06 | $22 | 746 | $15,000 | Aurelian3p | $1,921 |
| MB Festival 07 | $320 | 97 | $29,100 | Escabofildo | $6,409 |
| MB Festival 08 | $22 | 820 | $16,400 | Dvingminator | $2,016 |
| MB Festival 09 | $109 | 234 | $23,400 | WestCliff26 | $6,795 |
| MB Festival 10 | $55 | 434 | $21,700 | MachadadaRS | $2,928 |
| MB Festival 11 | $5.50 | 1,147 | $6,000 | boyrom | $538 |
| MB Festival 12 | $55 | 469 | $23,450 | vsmithc413 | $2,774 |
| MB Festival 13 | $11 | 2,374 | $23,740 | ableJ | $2,555 |
| MB Festival 14 | $55 | 1,074 | $53,700 | JovemNerd94 | $6,126 |
| MB Festival 15 | $5.50 | 2,298 | $15,000 | genstorm | $1,542 |
| MB Festival 16 | $11 | 1,387 | $15,000 | Betbur18 | $1,960 |
| MB Festival 17 | $109 | 179 | $17,900 | fanatmalini | $4,012 |
| MB Festival 18 | $109 | 1,820 | $182,000 | Anywayz | $16,848 |
| MB Festival 19 | $55 | 380 | $20,000 | a1esana | $2,997 |
| MB Festival 20 | $5.50 | 1,305 | $6,525 | DanGherghi | $693 |