PokerStars and Oracle Red Bull Racing Continue Partnership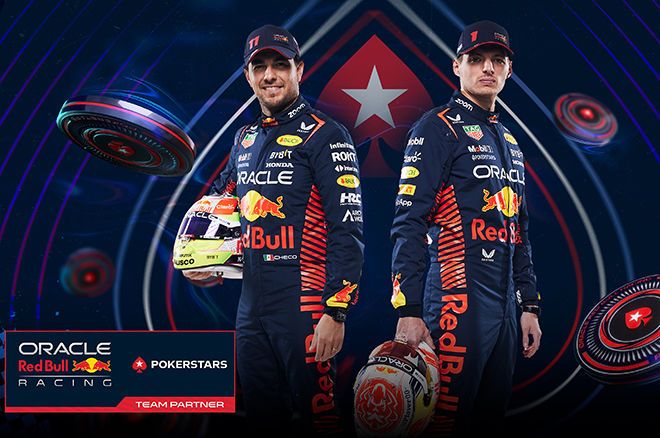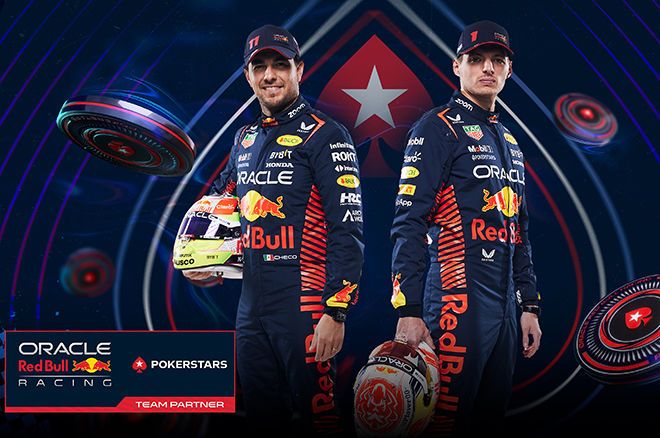 PokerStars and reigning Formula One champions Oracle Red Bull Racing are continuing their partnership for at least another year. Fans of Formula One and PokerStars are in for a treat, with both parties promising money-can't-buy experiences via the PokerStars Red Spade Pass and other exciting projects.
Last year, the PokerStars and Oracle Red Bull Racing partnership resulted in the creation of the Red Spade Pass, which awarded their winners a fantastic package including exclusive access to the ultimate Formula One experience. Red Spade Pass winnings jetted off to the world-famous Monaco Grand Prix where they enjoyed a private trackside viewing experience, four nights' accommodation in Nice, and a whole lot more.
Other Red Spade Pass winners enjoyed a similar once-on-a-lifetime experience at the Brazilian Grand Prix. Indeed, our very own Will Shilliber, European Executive Editor of PokerNews, joined the Red Spade Pass winners in Brazil in late 2022.
What is In Store for the Partnership's Second Year?
PokerStars and Oracle Red Bull Racing officially announced the continuation of their partnership in time for the 2023 Formula One season kicking off n Bahrain this weekend. Understandably, both parties are keeping their powder dry for now, but it sounds like they have big plans for 2023.
Rebecca McAdam, Flutter's Director of Partnerships, PR, and Consumer Engagement, is looking forward to what the second year of the partnership brings for fans of PokerStars and Oracle Red Bull Racing.
"After an incredible first year racing alongside Oracle Red Bull, we are delighted to be going into the 2023 season with even more rewards, content, and epic experiences in the pipeline to take our partnership to the next level. This partnership has enabled both us and Oracle Red Bull Racing to reach audiences who share similar passions and interests, and we still firmly believe that the team is the perfect fit for PokerStars, sharing our conviction that it is not just about what you offer fans, but the ethos and vision behind it."
Ambassadors and Qualifiers Enjoy Exclusive Red Spade Pass Experience at Formula 1 Brazilian Grand Prix
CEO and team Principle of Oracle Red Bull Racing, Christian Horner, hinted at some epic projects in the coming months.
"Partnering with PokerStars has been an ace move for the Team. Their commitment to entertainment and innovation is a winning formula that perfectly aligns with our own values in Formula One. As we enter another year together, we're raising the stakes and taking our collective game to the next level. While we can't reveal too much just yet, I can tell you that there are some truly exciting projects in the works, and we look forward to unveiling our plans in the coming months."
Throughout last year's 2022 Formula One season, PokerStars boosted certain prizes and prize pools based on the success of the Oracle Red Bull Racing team on the track. The excellent performances of Max Verstappen, who won 15 races and enjoyed 17 podium finishes, and teammate Sergio Perez (two wins and 11 podiums) resulted in masses of value heading PokerStars players' way.
After a dominant display from reigning world champion Verstappen in Round 1 of the 2023 Formula 1 season, it could be another season of value for you as a PokerStars customer. Verstappen finished almost a full 12 seconds ahead of Perez in Bahrain, Verstappen's 16th victory in 22 races!
Multiple $1M GTD Events Scheduled for Returning PokerStars Bounty Builder Series
Join PokerStars Today
Now is the time to become a PokerStars player because there is a 100% up to $600 welcome bonus waiting for new depositing customers. Joining PokerStars will make you eligible for all the Oracle Red Bull Racing-related promotions coming your way throughout the 2023 Formula One season.
Those of you who do not already have a PokerStars account can download the excellent software via PokerNews. Make your first deposit safe in the knowledge that PokerStars matches your deposit 100% up to a maximum of $600. In fact, your first three deposits in the first 90 days after creating your account are matched 100% up to a combined maximum of $600.