RGPS Council Bluffs Runs From April 20-30 With $100,000 Guaranteed Main Event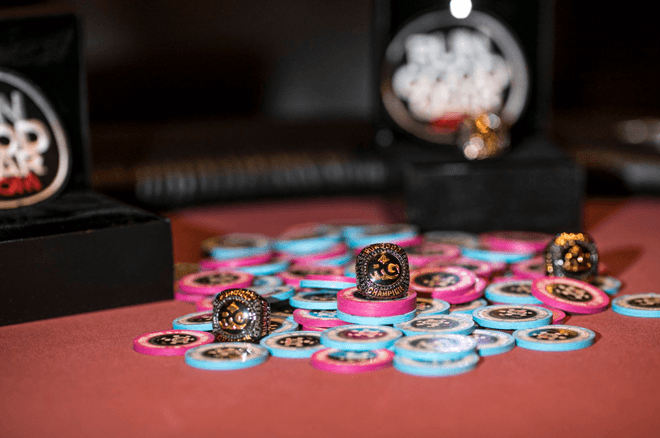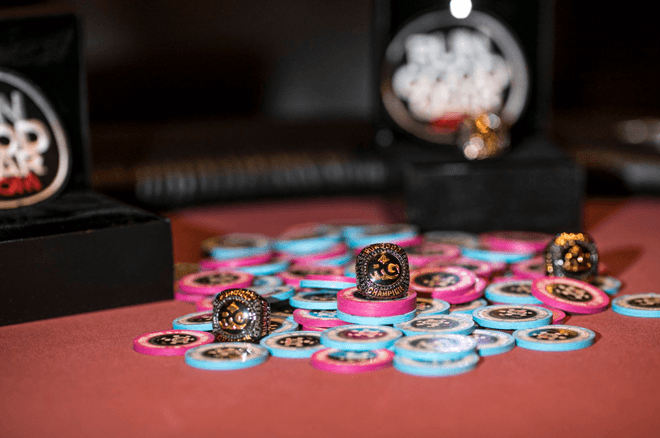 After two successful stops during the 2022 season, RunGood Poker Series (RGPS) is back in Iowa from April 20-30 for RGPS Council Bluffs at Horseshoe Council Bluffs, which is located in Iowa just across the river from Omaha, Nebraska.
The latest stop on the RGPS 2023 Checkpoint series will feature 20 ring events spread across 11 days of poker action, with the flagship $700 Main Event kicking off on Friday, April 28 with three opening flights and a $100,000 guarantee.
Meanwhile, several side events will be on offer with opportunities to pick up an RGPS ring in a number of different variants, including Omaha 8, H.O.R.S.E., and Pot-Limit Omaha.
Check out the RGPS Hub on PokerNews here!
11 Days of Poker
The action kicks off with three events on Tuesday, April 11, including the $250 Series Warm-Up ring event and the $125 RunGood Bankroll Builder. The opening day will also feature the first flight of the RGPS Kickoff ring event. The series opener will offer five opening flights over the first three days, and the surviving players will meet on Sunday April 23 for the Day 2 restart.
Other events throughout the series include the $200 Tag Team double ring event on Monday, April 24 and a one-day High Roller ring event to close out the series on Sunday, April 30 with a $1,100 buy-in.
The $700 Main Event will kick off on April 28 with the first flight, while Days 1b and 1c will follow on Saturday, April 29. The surviving players will meet for Day 2 on that following Sunday to play for their share of the guaranteed $100,000 prize pool.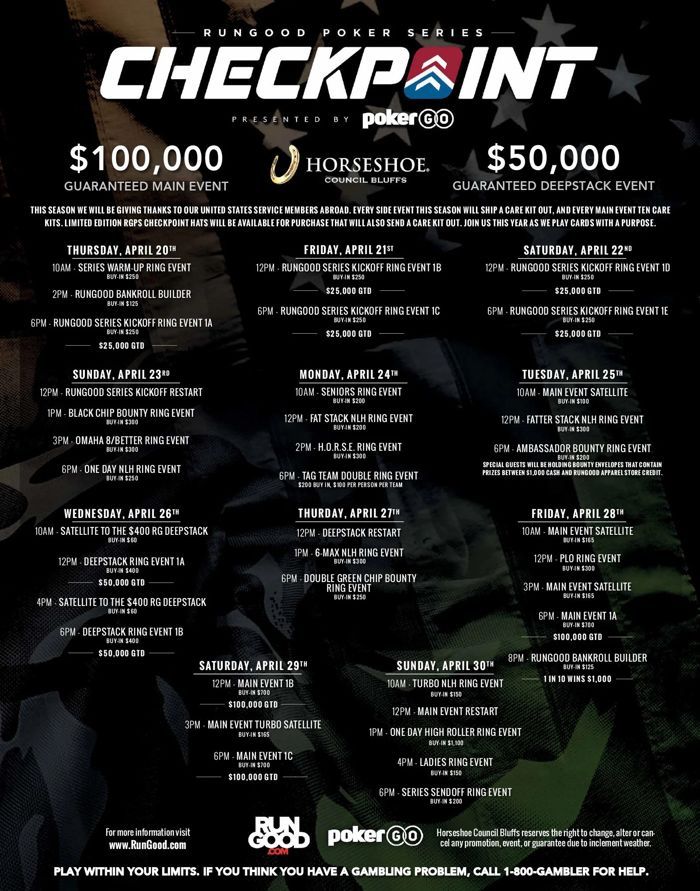 Previous Winner
RGPS returns to Iowa for the first time since October when Derrick Plumage completed a victory in his second RGPS Council Bluffs Main Event in a row. Plumage defeated Mark Homan in heads-up play to take the top prize of $56,931 from an event that drew 576 entries. Keith Jeffrey, Loren Hackman, and Mo Nuwwarah rounded out the top five finishers.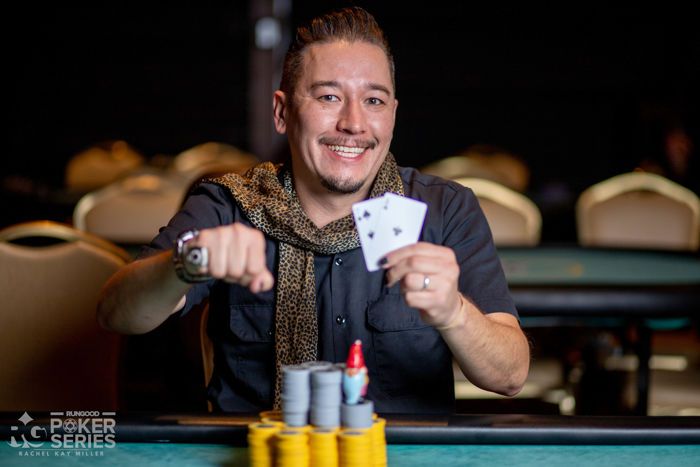 2022 RGPS Council Bluffs Final Table Results
| Place | Name | Prize |
| --- | --- | --- |
| 1 | Derrick Plumage | $56,931 |
| 2 | Mark Homan | $39,896 |
| 3 | Keith Jeffrey | $25,669 |
| 4 | Loren Hackman | $18,271 |
| 5 | Mo Nuwwarah | $14,018 |
| 6 | Doug Hawley | $11,532 |
| 7 | Matthew Palmer(US) | $9,525 |
| 8 | Yoel Gonzalez | $7,588 |
| 9 | Daniel Hamm | $5,691 |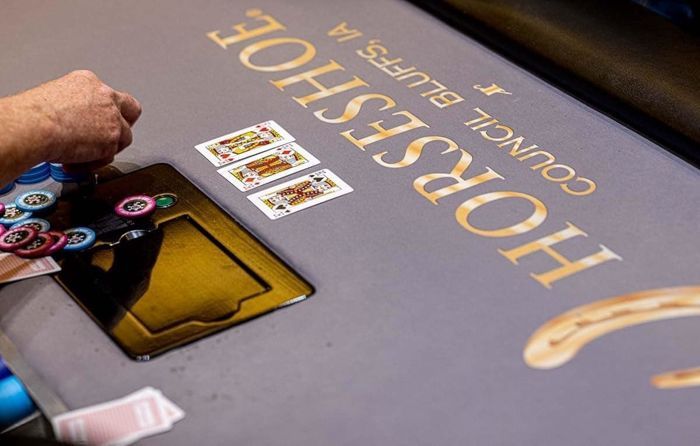 2023 RGPS Council Bluffs Schedule
Check out the full RGPS Checkpoint Council Bluffs schedule below:
| Date | Time | Event |
| --- | --- | --- |
| April 20 | 10 a.m. | $250 Series Warm-Up Ring Event |
| April 20 | 2 p.m. | $125 RunGood Bankroll Builder |
| April 20 | 6 p.m. | $250 RunGood Series Kickoff Ring Event Day 1a ($25,000 GTD) |
| April 21 | 12 p.m. | $250 RunGood Series Kickoff Ring Event Day 1b ($50,000 GTD) |
| April 21 | 6 p.m. | $250 RunGood Series Kickoff Ring Event Day 1c ($50,000 GTD) |
| April 22 | 12 p.m. | $250 RunGood Series Kickoff Ring Event Day 1d ($50,000 GTD) |
| April 22 | 6 p.m. | $250 RunGood Series Kickoff Ring Event Day 1e ($50,000 GTD) |
| April 23 | 12 p.m. | $250 RunGood Series Kickoff Day 2 |
| April 23 | 1 p.m. | $300 Black Chip Bounty Ring Event |
| April 23 | 3 p.m. | $300 Omaha 8/Better Ring Event |
| April 23 | 6 p.m. | $250 One-Day NLH Ring Event |
| April 24 | 10 a.m. | $200 Seniors Ring Event |
| April 24 | 12 p.m. | $200 Fat Stack NLH Ring Event |
| April 24 | 2 p.m. | $300 H.O.R.S.E. Ring Event |
| April 24 | 6 p.m. | $200 Tag Team Double Ring Event |
| April 25 | 10 a.m. | $100 Main Event Satellite |
| April 25 | 12 p.m. | $300 Fatter Stack NLH Ring Event |
| April 25 | 6 p.m. | $200 Ambassador Bounty Ring Event |
| April 26 | 10 a.m. | $60 Satellite to the $400 RG Deepstack |
| April 26 | 12 p.m. | $400 Deepstack Ring Event Day 1a ($50,000 GTD) |
| April 26 | 4 p.m. | $60 Satellite to the $400 RG Deepstack |
| April 26 | 6 p.m. | $400 Deepstack Ring Event Day 1b ($50,000 GTD) |
| April 27 | 12 p.m. | $400 Deepstack Day 2 |
| April 27 | 1 p.m. | $300 6-Max NLH Ring Event |
| April 27 | 6 p.m. | $250 Double Green Chip Bounty Ring Event |
| April 28 | 10 a.m. | $165 Main Event Satellite |
| April 28 | 12 p.m. | $300 PLO Ring Event |
| April 28 | 3 p.m. | $165 Main Event Satellite |
| April 28 | 6 p.m. | $700 Main Event Day 1a ($100,000 GTD) |
| April 29 | 12 p.m. | $700 Main Event Day 1b ($100,000 GTD) |
| April 29 | 6 p.m. | $700 Main Event Day 1c ($100,000 GTD) |
| April 30 | 10 a.m. | $150 Turbo NLH Ring Event |
| April 30 | 12 p.m. | $700 Main Event Day 2 |
| April 30 | 1 p.m. | $1,100 One-Day High Roller Ring Event |
| April 30 | 4 p.m. | $150 Ladies Ring Event |
| April 30 | 6 p.m. | $200 Series Sendoff Ring Event |
Las Vegas-based PokerNews Live Reporting Executive, originally from Chicago, IL