5 Things to Do while Playing Challenging Rummy Games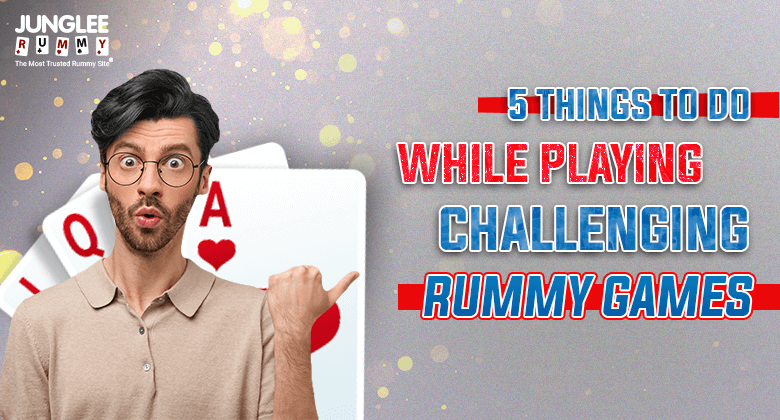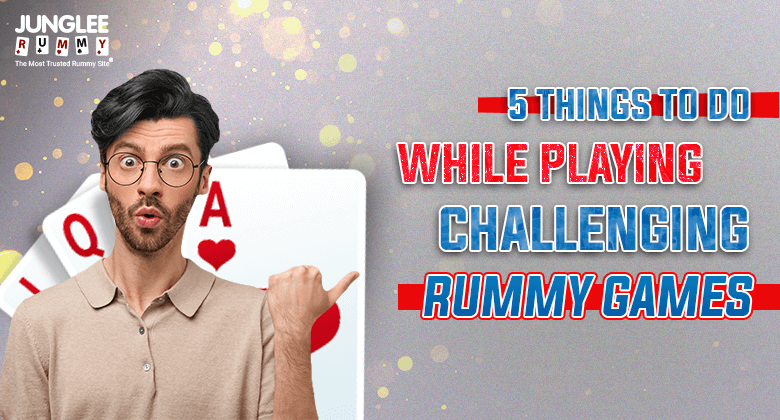 Challenges make you discover things that you never thought of!
Life is not a cakewalk, neither are online rummy games. Of course, rummy is all fun and games. But, it can be challenging at times.
Online rummy is a skill-based game that requires sorting and matching of cards. Sounds simple, right? Well, it is easy to play rummy when you are aware of game rules, concepts, strategies and more. However, there are various skills that help you win the game.
For example, when you play online rummy for real money, you must create valid combinations of sequences and sets before anyone else on the table. If you are good with time management, logical thinking, analytical reasoning, and decision making skills, you have good chances of winning the game.
But wait right there! Even the most skilled player cannot claim a sure shot win at rummy games. This is because it is dynamic in nature and you may get many surprises during the game. The probability of winning and losing are almost equal. So, it is quite natural to feel intimidated especially during a challenging situation.
If you get stuck while playing rummy online, here are 5 things you can do to relax your mind.
Remain Calm and Focused
In a rummy game, each player gets 13 cards in hand and attempts to create different melds using closed and open piles. The player who makes a valid show takes away the winning amount.
However, not every player gets the desired hand or cards while playing the game. When the stakes are high, they feel frustrated and fear losing the game. If this happens to you, you must keep your emotions in control.
Feeling of anger and frustration clouds your judgement and decision making ability which is crucial for rummy games. You might even forget the basics and make wrong moves in the process. During such a time, it is important to remain calm and focused.
Rummy requires a lot of patience and perseverance. If you do not get the desired cards or there are less chances of creating melds, you can consider dropping the game.
Take a Breather
For working professionals, rummy games are like stress busters. They usually play the game during free hours at work or at home.
But, there are times when players do not get the desired cards or get stuck with one card towards the end. If stakes are involved, players tend to get more nervous and agitated.
Playing rummy games with a stressful mind will add to your distress. If you feel exhausted or mentally drained, it is important to take a breather to refresh your mind. Just do what you like. Take a nap, watch a funny video, listen to music, dance or simply go for a walk.
When you feel refreshed, you come back stronger in every game and you are able to think clearly during a critical moment.
Don't get Overwhelmed
If you lost a few games in the past, you may be hesitant to participate in upcoming cash games or tournaments. It is quite natural to feel overwhelmed by the thought of losing the game.
But, if you keep thinking about your past mistakes, you might feel overwhelmed and underperform in a tournament. Instead, you should think about strategies to avoid your mistakes and play with a calm mind.
So don't get overwhelmed by your thoughts and simply focus on the game. Analyze the cards and think about new strategies to win.
Practice is the Key
If you are a beginner, you must have a strong knowledge of rummy rules, concepts, strategies and tips & tricks. Along with that, you should also have a clear mindset to accept your failures.
You can develop a better understanding towards the game by playing practice games. When you play practice games, you are more likely to learn and innovate new strategies and tricks to beat your opponents.
At Junglee Rummy, you can access unlimited practice games using free chips.
Don't Forget the Purpose
We all know that online rummy offers amazing opportunities to win real money in prizes. But, there are many players who lose track of their spendings and find themselves in debts. This is because most of them try to recover the losses incurred in previous games. And this is also one of the reasons why they quit playing the game.
Rummy or any other game are designed for entertainment purposes only. Winning and losing are a part of it and it should be played as a recreational activity. Do not get overwhelmed by your losses and try to play responsibly.
To sum it up, rummy is fun, interesting and challenging all at the same time. You should remain calm and come with a clear mind to overcome any challenging situation during the game. Also, don't get overwhelmed by the losses and play rummy for entertainment purposes only.
If you are looking for a platform to play online rummy, you should consider joining Junglee Rummy. We offer multiple varieties of rummy games such as free, cash and tournaments where prizes are worth lakhs or even crore of rupees. There are other perks such as refer & earn program, loyalty program, rewards and offers and many more.
Download the app now and get a welcome bonus worth ₹5250.