The Muck: Poker Twitter Ablaze Over WSOP Vaccination Requirement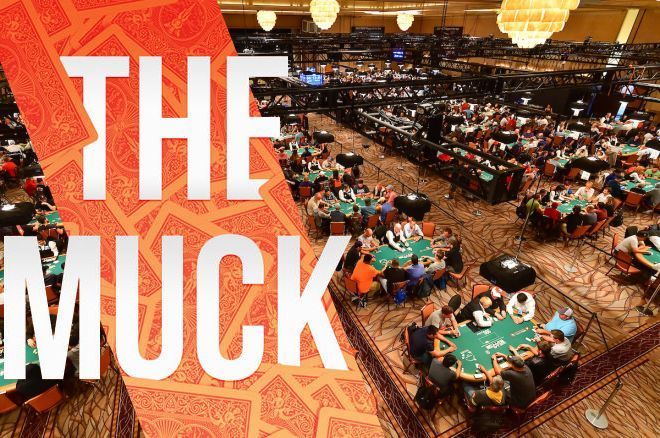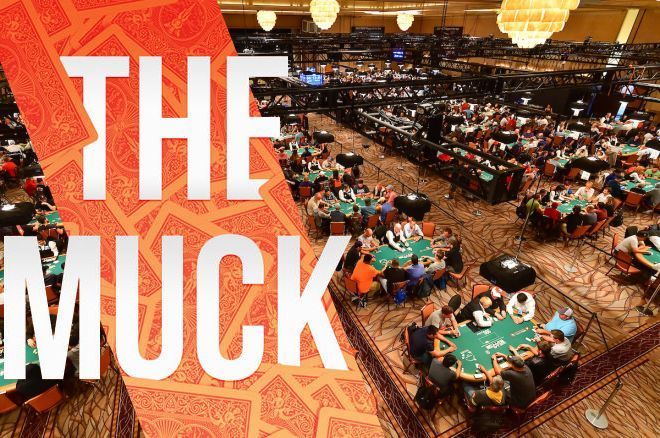 If you haven't accessed Twitter.com since the WSOP announced on Friday they will require proof of COVID-19 vaccination, you're really missing out. But don't worry, we've got you covered right here with the latest edition of The Muck, where we showcase the social media hot takes on what appears to be one of the most controversial issues in poker history.
Players, spectators, media, and vendors must provide proof of vaccination against COVID-19 to participate, cover, work, or witness in person the 2021 World Series of Poker, a rule that has some poker fans jumping for joy, and others on max tilt.
Post of the Day
We begin this edition of The Muck with the best comment on social media we found, and it comes from former PokerNews live reporter, Samuel Cosby.
just setting up my twttr

— jack⚡️ (@jack)
Cosby's lighthearted tweet was rare, however. Most who commented on the mandate were either cheerful or angry. There wasn't much in between, and the political divide was obvious.
Landon Tice Polls Followers
Landon Tice didn't give his take on the WSOP's vaccination mandate, but he did poll his followers on the issue. And the results through 2,000 votes were quite telling.
just setting up my twttr

— jack⚡️ (@jack)
As of Saturday morning, just over 55% voted in favor of the mandate, while only 23% had a negative view on the move. Yet, the most vocal crowd appears to be those who are either anti-vax or disagree with the rule.
Kessler Disses Anti-Vax Poker Players
Allen Kessler, a loyal PokerNews reader who is always quick to spot our typos, isn't one to shy away from a controversial topic within the poker community, or any topic for that matter. He shared an opinion that, unsurprisingly, angered those who don't believe vaccines should be forced on anyone.
just setting up my twttr

— jack⚡️ (@jack)
"Or the most gullible, and easy to control," @yadijavadi responded.
"He wants to feel like getting his covid vaccine somehow makes him intelligent lol," @LibertarianPOC said of the "Chainsaw."
"Says the guy that eats nothing but fried processed food. Might wanna work on ur diet bc I promise Covid is the least of ur worries," @RaptureBF responded to Kessler.
Bicknell & Foxen Opposed
Poker power couple Kristen Bicknell and Alex Foxen, who have publicly shared their anti-vax passports stances over the past month, were quick to speak out on the WSOP announcement. Bicknell, who recently left partypoker without giving an explanation, backed up her future husband's comments on the WSOP mandate.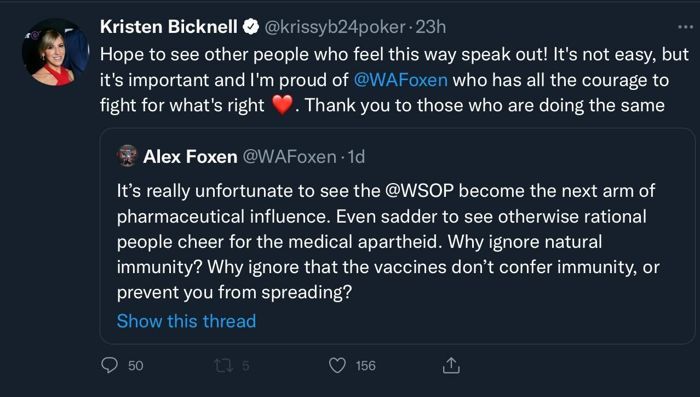 Foxen, the reigning back-to-back-to-back GPI Player of the Year, posed an interesting question: "If this pandemic is so deadly, why are we having a WSOP at all?"
"I am proudly boycotting this assault on logic and liberty and will be disappointed if any of those who feel the same find the easy way around this and continue to play. This will go down as the biggest mistake the WSOP has ever made," Foxen wrote.
"Maybe if somebody close to you died from covid you would change your mind. Again, are you against vaccines or the covid vaccine?" @adrianovalves asked the high roller superstar.
The Other Side of the Argument
Not every poker player on social media is anti-vax. In fact, many poker pros praised the WSOP for making the tough decision. While others who are vaccinated still oppose the mandate, including Bill Perkins, who said he won't be attending the series because he argues the rule imposes on people's freedoms.
just setting up my twttr

— jack⚡️ (@jack)
David "ODB" Baker doesn't align with Perkins' views. He saluted the WSOP staff for mandating all attendees at the 2021 World Series of Poker, which begins September 30 at the Rio, be vaccinated.
just setting up my twttr

— jack⚡️ (@jack)
"Regardless of your politics, they have an obligation to protect staff, players and the venues from harm. Vaccines do, and have been protecting the human race for hundreds of years. Well done WSOP," @Prybar943 wrote.
While some argued the elimination of unvaccinated players would lead to a significant decline in attendance at the WSOP, others claimed they will now attend the series because vaccinations are required. Chris Moneymaker, who previously said he wouldn't attend due to health concerns, told PokerNews he might now make the trip from Mississippi to Las Vegas in the fall.
"That feeling when the pendulum swings from probably not going to WSOP to probably going to WSOP," @Taylor_Maas wrote, echoing Moneymaker's sentiments.
We can't predict attendance at the WSOP this fall or how many unvaccinated players will get vaxxed up so they can compete. But one thing is clear, it's going to be an interesting series.