Celebrities Head to PokerGO Studio for One Step Closer Foundation Event on March 4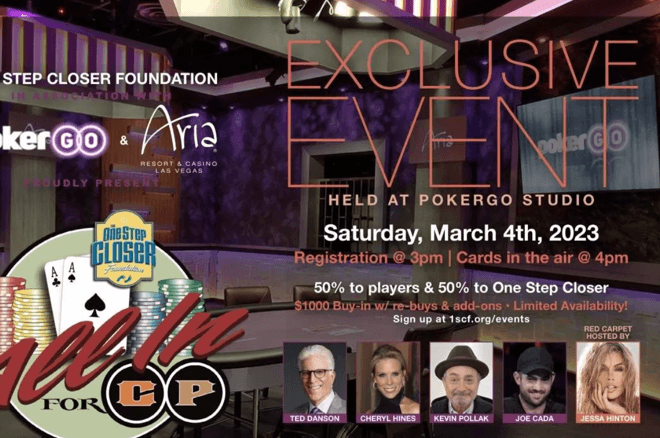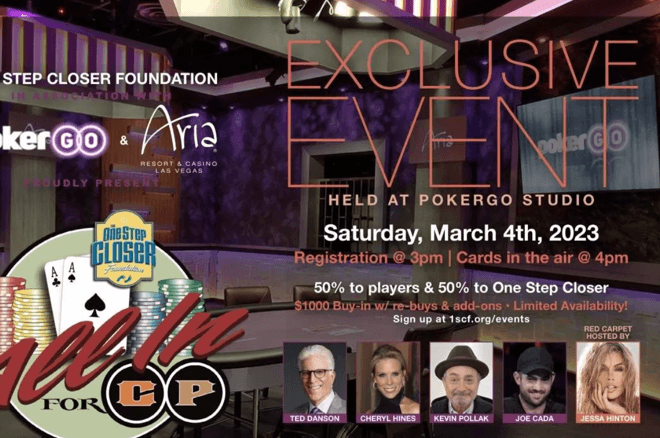 On Saturday, March 4, One Step Closer Foundation is joining forces with PokerGO and ARIA for the All In for CP Charity Event, which will be held inside PokerGO Studio (just one day after the Global Poker Awards will take place in the same space).
The event costs $1,000 to enter – 50% will go to the charity and the other 50% to the prize pool – is extremely limited due in no small part to who will be in attendance. There will also be $500 rebuys and a $500 add-on for those interested.
Hollywood actors Ted Danson, Cheryl Hines, and Kevin Pollak are all slated to participate, as are MMA fighter Roy "Big Country" Nelson and 2009 World Series of Poker (WSOP) Main Event champ Joe Cada. Jessa Hinton will also be featured as the red-carpet interviewer. Those interested in participating can register at 1scf.org.
Click here to register for the One Step Closer Charity Event!
Founded in 2007 by Jacob Zalewski and the late Sam Simon, the One Step Closer Foundation has raised approximately $1.5 million via poker charity events. The latest tournament marks its post-pandemic return as the last iteration was back in 2019.
"It was very hard to get it going again things got a lot stricter since COVID," Zalewski, who battles cerebral palsy himself, told PokerNews. "We had to get reapproved in Nevada and get the green light from NGC. That was a fun experience!"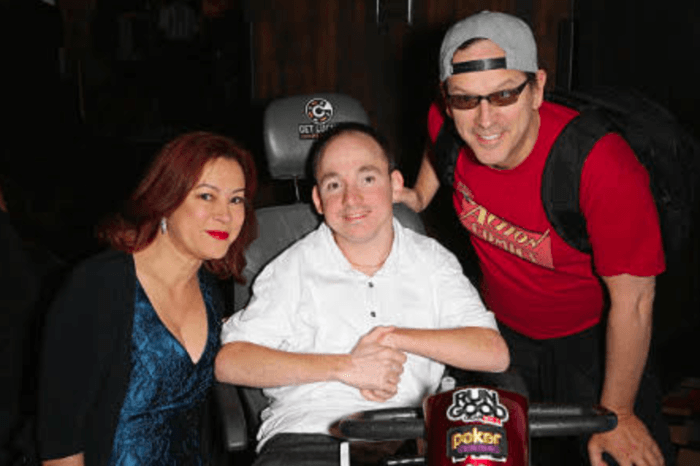 He added: "While a lot of organization's ultimate goal is to find a cure for the affliction, we strive to help ease the lives of those with Cerebral Palsy and various disabilities now. Of course, we hope that one day we'll be instrumental in finding a cure, but there's so much to do in the meantime. One step closer!"
Tournament Information
WHEN: Saturday, March 4, 2023 at 5:00 pm
WHERE: PokerGO Studio at Aria Resort & Casino- 3730 S Las Vegas Blvd, Las Vegas, NV 89158
MEDIA: Red Carpet: 3:00 pm; Check-in: 3:30 pm, Tournament: 4 pm
NOTE: There will be $500 rebuys and a $500 add-on for those interested
"Jacob is quite an inspiration," Hines told PokerNews during a previous event. The Curb Your Enthusiasm actress continued: "I have a nephew who has Cerebral Palsy, he's been in a wheelchair since he was born, and I know what a challenge that is, not only for the individual but for all the loved ones that support them. For Jacob to create an organization to help other people with CP is just amazing."
For more information, follow @1scf on Twitter.
Curb Your Enthusiasm's Cheryl Hines Takes to the Felt for Charity
Images courtesy of 1SCF.
Executive Editor US, PokerNews Podcast co-host & 2013 WSOP Bracelet Winner.