Our Top 5 Reasons to Download and Play for Free with PokerStars Play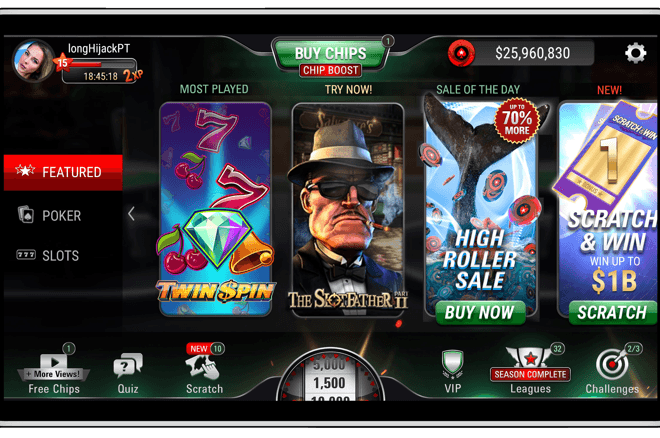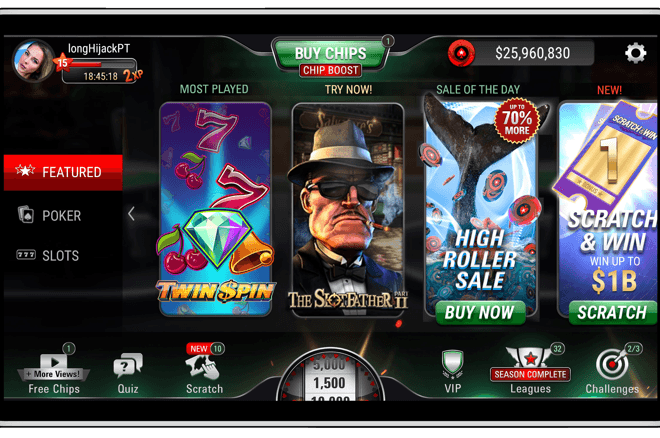 If you're not already aware, PokerStars Play is a free social poker app that brings amazing poker games like Texas Hold'em, Omaha Poker, as well as cutting-edge casino games straight onto your mobile device. Even better, PokerStars has developed this app, one of the leading online poker and casino game providers across the globe!
Did we forget to mention that PokerStars Play is completely free-to-play?
PokerStars Play is available worldwide, including in the United States and Australia. Still, please be aware that it doesn't include real money gambling or an opportunity to win real money or prizes.
PokerStars Play is Free to Play in over 80 countries
One of the benefits of downloading and playing on the PokerStars Play App is the number of countries and regions where the games are available. There are currently over 80 countries that allow local players to play free games online with Poker Stars Play. All the regional versions of the app and the games you can play are translated into the specific language of that country so you can play confidently, no matter where you are.
We've listed just a few of the countries where you are free to play online poker and casino games at PokerStars Play:
| REGION | EXAMPLE COUNTRIES |
| --- | --- |
| North America | USA, Canada |
| Europe | France, Germany, Spain, Portugal, Ireland |
| Central & South America | Mexico, Brazil, Colombia, Chile |
| Africa & Middle East | Egypt, Kenya, Nigeria, Qatar, Saudi Arabia, South Africa |
| Australasia & Asia | Australia, India, New Zealand, Thailand, Philippines, The Republic of Korea |
Note this is just a select list of some countries that currently offer PokerStars Play.
PokerStars Play includes fantastic online poker games
It won't come as any surprise that the two most popular poker games are available, free to play with PokerStars Play – Texas Hold'Em and Omaha Poker! What you might not know is that as well as playing these games, poker players can also complete various Poker Challenges to earn additional chips. Once you've downloaded the app and started playing, you'll receive challenges on a daily and weekly basis. These can range from making specific wagers to playing in poker tournaments and more! Each challenge contains its own progress bar so you can see how you stack up, and once you've completed your challenge, you'll receive free chips to use on more games.
Another nice feature of the online poker section of PokerStars Play, is getting involved in Leagues. As a player, you'll be placed in a division consisting of 100 players across various skill levels. Your place in the league is determined by the cumulative total of chips you've earned, and you can move up to the successive league if your placing is high enough at the end of the season.
You can play on a wide selection of online slots
It's not just all about poker at PokerStars Play – casino game players are also well catered for, with a wide and varied selection of slots. Like the poker options, slots have their own menu on the main game lobby in the PokerStars Play app, so it's extremely easy to access your favorite games and to start spinning!
Once you've accessed the Slots Lobby, you have the choice of either Jackpot Slots or Regular Slots. Plus, if you're lucky enough to be a VIP Player, you will have access to the VIP Slot selection.
Once you've selected your chosen slot, the gameplay is super easy on PokerStars Play. You have options to Increase or Decrease your Bet, plus a Max Bet option to set the maximum bet at a specific amount. You can either manually hit Spin to start spinning the slot or use the Auto Spin option to set automatic spins.
PokerStars Play Reward Your Loyalty
Player rewards or loyalty schemes are familiar to online casinos, but PokerStars Play goes one better by awarding you with experience points just for playing a hand of poker or one of the many slots and mini-games. As you earn more and more points, you'll climb the up the VIP program. The higher your rank in the VIP program, the more benefits you'll access.
In addition to these rewards, every player can spin the Ad Wheel, just by watching an ad. You'll get a reward each time you spin the wheel, and if 5 ads are watched within 24 hours, a bonus reward is given. For new players, you'll see Daily Log-In Rewards available to you in the main lobby for the first 7 days of opening your account.
Play on scratchers to get even more rewards
One of the standout features on PokerStars Play, is the addition of some of the added extras, alongside the poker and casino games on offer. Case in point, check our the scratchers, which you can access from the main app lobby screen.
Every player is awarded a free scratcher each day, but you can also earn another free scratcher by watching an ad. If you match three symbols on a scratcher, you can win free chips to use on any of the games in the app. You can also purchase premium scratchers that unlock bigger and better rewards!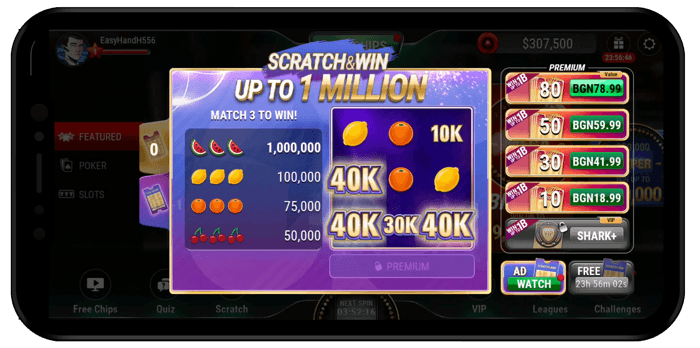 So that's our Top 5 reasons to download and play on PokerStars Play... what are yours? Download now to find out!