5 Thoughts Players Have while Playing Online Rummy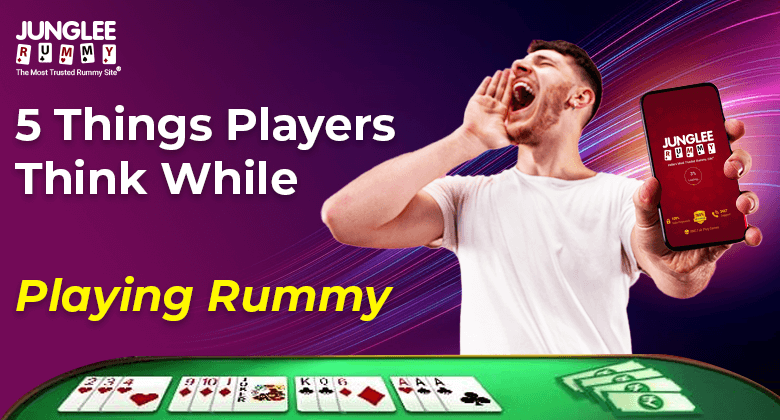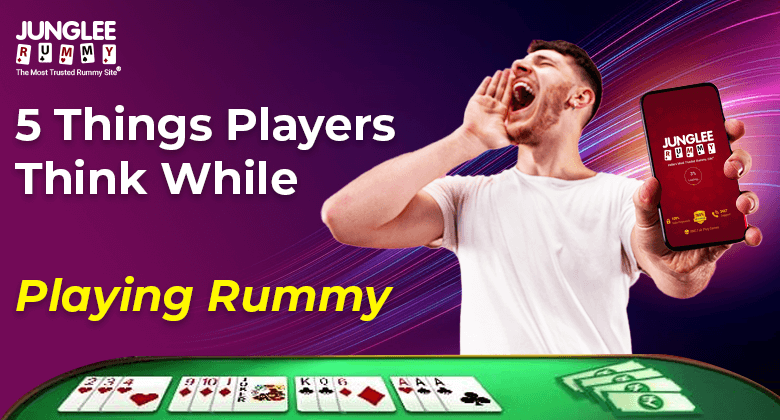 Whether you are walking down the street or watching television, studying for a test or playing a game, there are several thoughts that run through your mind. These thoughts are fed to your brain in the form of information or data. Regardless of whether big or small, this information is processed and reevaluated by your brain, which in turn helps you make an informed decision.
Similarly when you play rummy online, you may think of several things that would make no sense. This is because rummy is a skill game that creates an adrenaline rush into your brain. While playing the game, you may feel a range of emotions that result from various thoughts running through your mind.
So what are these thoughts and do they affect your game? We asked a few experts what they think about while playing rummy and we got some interesting insights below.
Thought #1: "Who am I playing with?"
When you enter the game, you may think about the players you are playing with. It's quite natural to take a look at your competition and identify their level of expertise in the game. Some of you may take a look at their game avatars or usernames and create your own perception about the players. For example, if someone has a username "SRK0789," you would perceive them to be a Shahrukh Khan fan.
Although avatars and usernames help you identify a user's personality, you may not be correct all the time. For example, a man could play with a female game avatar. But if you are truly curious about your opponent's personality, you can guess it from their game play. If they are quick in drawing and discarding cards and decision making, they are probably expert players.
No matter what, it is quite common to form these perceptions in your head while playing the game.
Thought #2: "How can I outplay my opponents?"
We all know that rummy is a fast-paced game. The moment you finish a rummy game download on your mobile phone and start playing the game, you are in for a bag full of surprises. To begin with, you may be pitted against some of the finest players on the platform, who are highly-skilled and experienced. This leads to a common thought in your brain such as how to outplay your opponents and win the game.
To win a rummy game, you have to create different required combinations using the 13 cards in your hand. The player who makes a valid declaration before his/her opponents wins the game. While playing the game, you may think of different strategies to outwit your competitors. You get an upper hand when you know all strategies and tips and tricks to win a rummy game. Check out our page to learn different rummy tricks.
Thought #3: "Bad cards! Shall I drop or continue?"
Before entering a game, everyone desires to get a good hand that can help them create the required combinations quickly. However, it is not always possible to get good cards when you play rummy online.
When the cards are dealt and if you get bad cards, you may decide whether to drop or continue playing the game. According to rummy experts, it is vital to drop out rather than playing with a bad hand. Whether you opt for a first drop or a middle drop, the penalty incurred will be less than the penalty faced over unmatched cards at the end of a game.
If you continue playing a cash game despite having a bad hand, you are likely to lose your hard-earned money, which could instead be used in subsequent games.
Thought #4: "This game is getting so exciting!"
During an intense gameplay, you are only one card away from winning the game. Your heart is pumped and filled with excitement to get that "one" card and declare right away.
But you also know that your competitor may be in the same position as you. This brings an adrenaline rush into your mind and you want to finish the game right away. You get thrilled and excited when you know you have a grand prize worth lakhs of rupees waiting for you!
So you start praying to all the forces in the world to let the card be in your favor. That's the beauty of rummy games!
Thought #5: "I will invite my friends to play online rummy."
After winning a few games in the row, you might feel overjoyed and want to share your happiness with everyone else. Some of you may even think of inviting your closest friends and family to play rummy. Well, we know how you feel!
Online rummy platforms such as Junglee Rummy offer a Refer & Earn program where you can get upto ₹1000 for every successful referral! So the more friends you invite to play on the platform, the more money you can win!
There is no doubt that rummy is an exciting game that brings a gamut of thoughts into a player's mind. Being a skill game, it tests your cognitive skills and abilities, all the while keeping you entertained. You will enjoy every second of playing the game.
If you are looking for a platform to play online rummy games on, you should try out Junglee Rummy. We are a top-rated online rummy platform where you can play a variety of games, including free and cash games as well as tournaments. Don't miss out on our latest Diwali Tournament Series where you can win prizes worth crores of rupees!
Go for a rummy game download right away and get a welcome bonus up to ₹5250 on making your first deposit! Happy gaming!